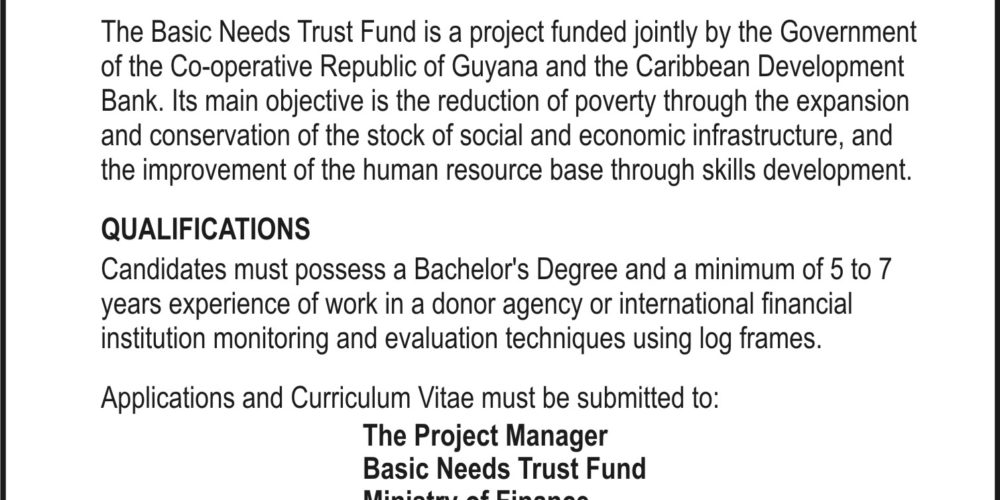 Vacancy – Monitoring and Evaluation Officer
TERMS OF REFERENCE
MONITORING AND EVALUATION OFFICER
JOB SUMMARY
The Monitoring and Evaluation (M&E) Officer, BNTF IA will report to the Project Manager (PM), and is responsible for evaluating project performance and impact. Depending on the size of the project portfolio in the country this may be a part-time role.
DUTIES
The duties of the M&E Officer are:
aligning the BNTF IA's work programme with the country's poverty reduction goals and Applying the monitoring and evaluation sections of the Guidance Framework throughout all tasks and processes, including liaising with the CDB through the PM;
monitoring BNTF projects in the country to an agreed standard format capturing implementation and operational dimensions which are reported by the project sponsor using standard software at agreed time intervals;
assisting the relevant government departments to monitor the post-implementation activities, in partnership with sponsoring agencies, and assist in the evaluation of social and economic impact of sub-projects on all members of the communities, using participatory approaches;
conducting mid-term and completion evaluations of a sample of projects in the country again to the standard methods and formats detailed in the Guidance Framework, focusing on outputs, outcomes, and impacts;
extracting lessons learnt from in-depth evaluations for application in-country and communicating throughout the BNTF network; and
contributing to the preparation of annual reports as requested.
QUALIFICATIONS
The M&E Officer will hold formal qualifications to Bachelor's Degree level, with 5-7 years of experience is required working in a donor agency or an international financial institution in monitoring and evaluation techniques using long-frames.
PERFORMANCE INDICATORS
Performance in this role will be measured against the following and specific targets will be formulated on an annual basis: They should reflect the above tasks and include:
the number of monitoring exercises completed during the year;
the number of mid-term and final project evaluations completed during the year;
the remedial measures identified, recommended and applied during the year;
the funding partnerships formed ( numbers, amount); and
the quality of government partner and beneficiary feedback.