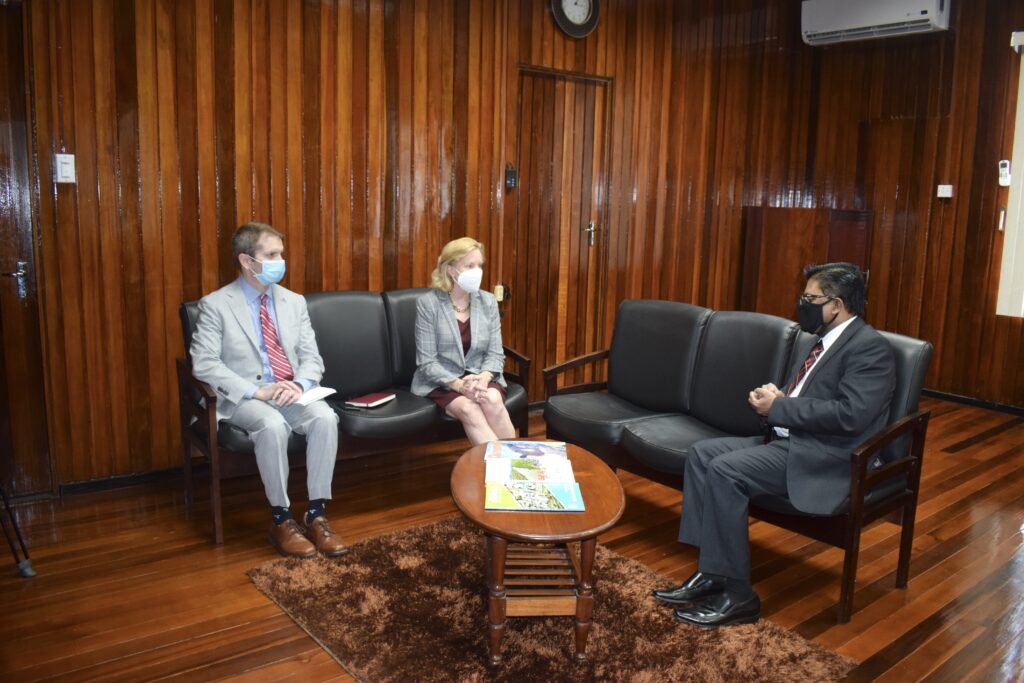 Georgetown, Ministry of Finance, December 11, 2020:
As Guyana continues to foster deeper cooperation ties with the United States of America in key development areas, Senior Minister with responsibility for Finance, Dr. Ashni Singh today met with United States Ambassador, Sarah Ann Lynch at his Ministry, Main & Urquhart Streets. The meeting provided an opportunity to discuss areas of mutual interest that would be strengthened through bilateral and multilateral channels, trade and financial measures. With Guyana now being an oil producer and exporter, the country has seen significant interest by international investors in oil and gas as well as in other productive sectors. This is pivotal to Government's efforts in reinvigorating the non-oil economy. Moves have been made recently and continue to be made to foster investment in Guyana's rich agricultural and tourism sectors. Minister Singh used the opportunity to thank Ambassador Lynch for her country's unwavering support of democracy and the rule of law in Guyana. This assisted in paving the way for the strengthening of ties and continued successful bilateral relations.
The two officials discussed how US support can help strengthen institutional capacity and the business environment against the background of heightened investor interest in Guyana. These discussions took place against the backdrop of the Framework Agreement signed between the two countries to strengthen Energy and Infrastructure Finance and Market Building Cooperation, security among other key areas. The Agreement was signed in September 2020 between His Excellency, Dr. Mohamed Irfaan Ali and United States Secretary of State, Mr. Mike Pompeo when the latter and his team visited Guyana.
Notably, the majority of overseas-based Guyanese reside in the United States of America forming the largest bloc of its diaspora. As such, Government has also vowed to leverage the skills and investment potential of this bloc as it continues on its development path to prosperity.