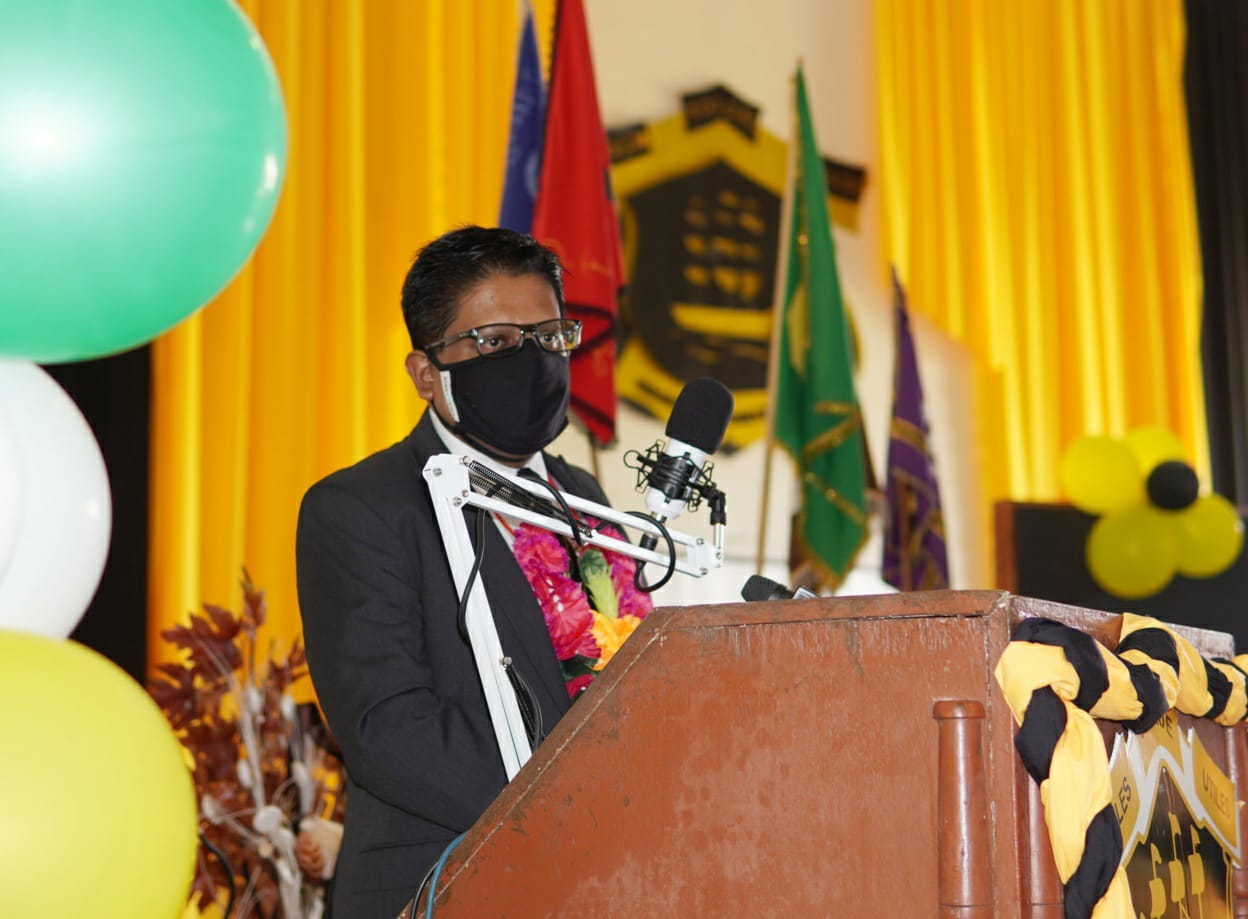 Georgetown, Ministry of Finance, August 10, 2021: Senior Finance Minister Dr. Ashni K. Singh today led the roll out of the 'Because We Care' cash grant at Queen's College (QC) on Camp Street. Prior to handing over the first grants to parents, the Minister expressed his joy at being able to participate in the disbursement of the cash grant at his Alma Mater.
"Let me first of all say what a great pleasure and tremendous and emotional experience it is for me to be able to be here today with you. As you know we have been holding events such as this throughout the length and breadth of Guyana. I spent seven of my best years right here at Camp and Thomas Lands. I believe and I consider myself immensely privileged to have had what I still consider to be perhaps the finest education I could have had almost anywhere in the world- right here at Camp and Thomas Lands," the Minister said
Addressing students, parents and teachers, the Finance Minister underscored Government's commitment to achieving universal primary and secondary education as well as raising the quality of education countrywide. He emphasized Government's plan to ensure every student exits high school with a well-rounded, quality education and equipped to participate meaningfully in the Guyanese economy.
"This event represents a tangible demonstration of President Irfaan Ali's Government (our Government, your Government's) firm commitment to ensuring that we create the conditions that are necessary for today's generation of young Guyanese to acquire the education that they need in order to play the most fulfilling and most meaningful, possible roles that they can play in the Guyana of tomorrow," Minister Singh added.
The Minister further urged parents, teachers and others eligible to receive COVID-19 vaccines to ensure that they get vaccinated to protect themselves as well as prepare themselves for the possible reopening of schools in September. Additionally, he took the opportunity to commend teachers and parents countrywide for the efforts they made in adapting to remote delivery and absorption of educational content during the challenging period of COVID-19.
Minister Singh noted that the cash grant disbursement would go a long way in meeting the critical needs of students to purchase stationery, uniforms and other school supplies, adding that the total countrywide disbursement will place in excess of $ 3.3 Billion into the hands of parents of these children.