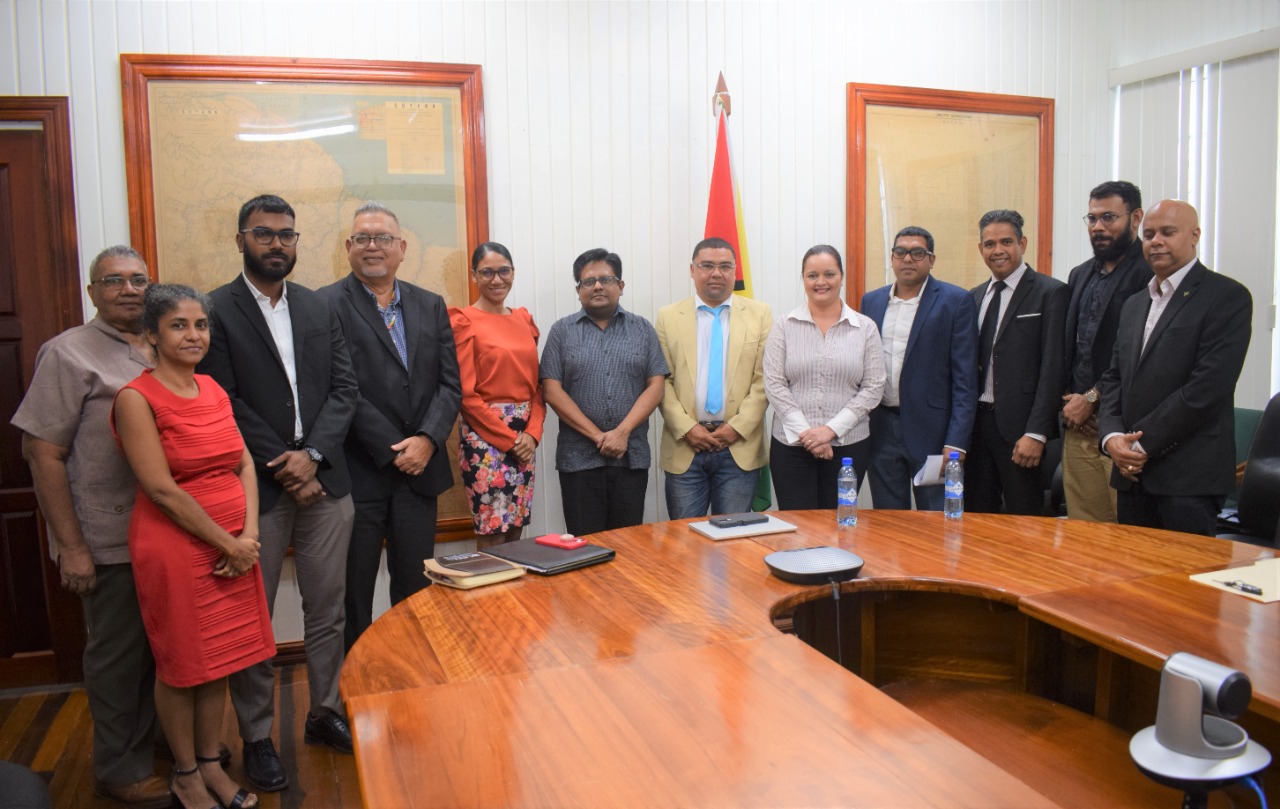 -as presentation of Budget 2023 nears
Georgetown, Ministry of Finance, January 11, 2023: Senior Finance Minister Dr. Ashni Singh today held further consultations with various representatives of the Private Sector as Government prepares to present Budget 2023 in Parliament on Monday, January 16, 2023. Representatives attending today's meeting included Mr. Ramesh Dookhoo of the Guyana Manufacturing and Services Association (GMSA), President of the Georgetown Chamber of Commerce and Industry (GCCI), Mr. Timothy Tucker, Chairman of the Finance Sub-Committee of the Institute for Private Enterprise Development (IPED) Mr. Jagdesh Haripersaud, Director/Board Member of the Women's Chamber of Commerce and Industry Guyana, Ms. Rowena Elliott and Executive Director of the Private Sector Commission, Mr. Ian Chung. The meeting is a follow-up to the one held with President Irfaan Ali, Vice-President Bharrat Jagdeo, Minister Singh and other officials at State House last week. During that engagement a number of suggestions were made for inclusion in the Budget.
Dr. Singh has been over the last several months meeting and consulting with various stakeholders including the Private Sector, Government Ministries, other agencies and Civil society listening to their concerns and receiving suggestions. Budget 2023 which will be the fourth Budget presented to Parliament by the People's Progressive Party/Civic (PPP/C) since its return to office in August 2020. This year's Budget will see critical development programmes for Government being fast- tracked and many more expanded to reflect Government's continued transformational agenda for the country which has been taking it forward at a rapid pace over the last two years and 5 months since the PPP/C's return to office in August 2020. The PPP/C's Budgets have all reflected its manifesto promises as well as additional initiatives that have been taking Guyana forward and transforming the country's landscape at an extremely rapid pace as well as attracting attention on the world stage as its economy booms.
Only yesterday, the World Bank in its published report 'the Global Economic Prospects' projected that Guyana will be the only country in the Latin America and Caribbean (LAC) region to record double-digit growth in 2023 with a growth rate of some 25.2 per cent, building on the 57.8 per cent expansion in 2022.
The first Budget presented by the PPP/C was an Emergency one totalling $330 Billion and was presented under the theme 'Our Plan for Prosperity: Protecting our People in a COVID-19 Environment; Strengthening Democracy and the Rule of Law; Incentivising Economic Growth and Job Creation; and, Enhancing Welfare'. The second, in 2021 totalled 383.1 Billion and was presented under the theme 'A Path to Recovery, Economic Dynamism, and Resilience' while the third in 2022 totaling $552.9 Billion was unveiled under the theme "Steadfast Against All Challenges, Resolute in Building Our One Guyana'.